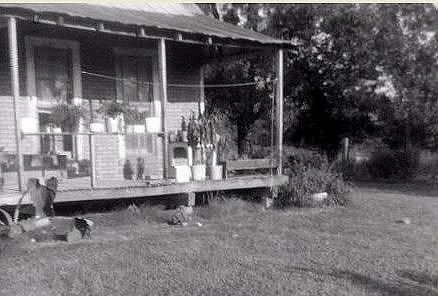 Not about much or of anything in particular, just a little day-dreaming and reminiscing about the good ole days. My mother's parents, Grandma and Grandpa Fisher lived in that old house up there from my earliest recollection until after I was married, when one day a tornado come barreling through and swooped off the roof and scooped many of their belongings up into the air to be tossed across acres of cotton and soybean fields.
I spent a' many a lazy summer day on that porch up there so when I ran across the photo it brought so many life photos to mind. I remember pushing the dasher on Grandma's churn until my little arms grew tired and Grandma would relieve me, and sitting out there when a heap of cousins came visitin and there wasn't enough room to seat everyone at the kitchen table. We'd take our plates and iced tea that Grandma had poured up in old snuff glasses cause we weren't grown enough to handle the big glasses yet. I remember my sister, Paula, riding her tricycle up and down, up and down, and coming to close to the edge and tipping over. Not much was hurt but her pride but that was plenty loud enough.
Barely noticeable in this old black and white photo is the old trunk that sat against the house wall near one of the windows. We never, not once, opened that old trunk so until this day the mystery of what it held is lost to me. Grandma loved flowers and she had every old pot, pan, and every other sort of container full of dirt with her flowers planted in them. Her elephant ears were always growing on either side of the porch steps,,,you can see one of those up there. We also shelled plenty of peas and butter beans as we sat out there of a cool morning before the sun crawled over the house.
On the little line she had strung between two porch posts she'd hang out the dish towels or a few undies that she'd hand washed in between wash days. In one of those old pots she had ornamental peppers planted and I heeded her warning about those little, hot, devils after that one time I just had to see for myself if they were as hot as she said.
There on the south side of the house you can see part of the huge pecan tree where Grandpa had an old cot where'd he'd sometimes take a little nap before going back to the fields. There was an old tire swing there for a time and later on he whittled us out a board seat for that old rope. I loved sitting out there during Sunday family get-togethers listening to the adults laugh and talk. I read many a book while sittin or lying under that big old tree and took many adventures in my mind.
Behind those two windows were the beds where we had our naps in the cool dark, even when the days were hot. We didn't have air-conditioners back then so there was an old box fan moving the air around as we snoozed.
During a rain shower that old tin roof made the most indescribable musical sound that would put us right off to sleep even if we'd thought we weren't a bit sleepy. I remember the safe feelings I had back then when all seemed right with the world.
There's nothing left of the old home place anymore, even the trees are gone,,,pushed up by farmers to make the fields bigger. It's sad because I'd love to be able to go back there and remember some more.