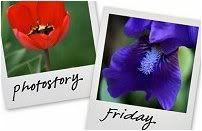 Hosted by Cecily and MamaGeek
Jerri and Jillian (a.k.a. Jilly Beans) came over this afternoon. Beans was having a little reviving nap in her momma's arms when they first got there, but soon she was busy dragging out this toy, those crayons, that book, etc... She got tired of coloring pretty quick but didn't want to pick up the colors that were strewn everywhere, so to get her to do it, we had a race to see who could pick up the fastest. That worked. That time.
Later on she'd taken out the Mouse-Trap game and had left it in the middle of the floor so Jerri told her, "Jillian, you need to pick up this game and put it away." Jillian ignored her. Jerri said, "Jillian, you either pick up this game or I'm going to spank you." Jillian is all comfortable and laid back in her PopPop's recliner and says,
"Don't whip me too hard Momma."
That child is gonna go somewhere,,, far.